Maktech Fleet Solutions Offers Vehicle Repair & Fleet Services You Can Count On!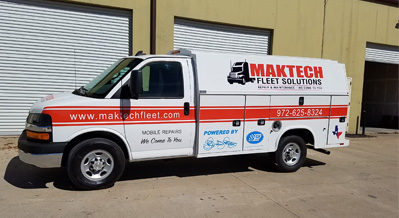 Since 2016, Maktech Fleet Solutions has provided fleet vehicles in the Melissa, TX 75454 area with comprehensive repair services that include General Services, Fleet General Services, Fleet Brakes, Fleet Drive Train, Fleet Electrical, Fleet Engine Work, Fleet Front End Services, Fleet Suspension Work, Fleet Wheel Services, and Fleet Trailer Work. Our goal is to offer the best services available at affordable prices to get you back on the road in no time.
For a high-performing vehicle, trust Maktech Fleet Solutions with your repair needs. To learn more about the services we offer, please contact us by phone at 972-625-8324 or send us an email. We also invite you to learn more about our dedication to you, our valued customer.
Maktech Fleet Solutions offers fleet repair services you can count on!
Vehicle
tips
According to recent studies, 5 percent of all motor vehicle fatalities are clearly caused by automobile maintenance neglect.
Testimonials
Lauren R.

, 12/15/2020
I bought a school bus a year ago and brought it in to begin my personal routine maintenance, as I am converting it to a tiny home. We fixed a numerous amount of things (all of which were legit: oil change, filters, etc). And they informed me that it would be a good idea to do a coolant flush too, considering the coolant that was in it from the school district was for gasoline engines. I told them after I removed the back heater, I would. No need to buy extra coolant after all. I took it back the other day to get the coolant flush and slowly but surely I am replacing old, worn out parts. Every time I have come in, my experience has been nothing but top notch. They take their time, they explain what parts work with what and why they are important, and they teach me about my bus so I can give it the absolute best care. I stumbled upon this shop and I am so thankful I did. This is a mechanic you can trust.
view all reviews